The Professional Touch® Hot-fix Applicator Bead Guides: Tools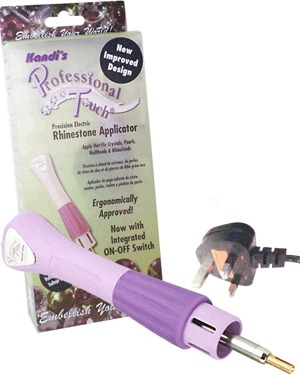 Summary Information
Kandi's Professional Touch® Hot-fix Applicator is great for applying Swarovski hotfix crystals and trims. Use it to personalise jeans, shoes, purses and other accessories. Create your own cards. Add a sparkle to items such as boxes, clocks and lampshades.
8 precision tips included - 2, 3, 4, 5, 6 and 7 mm and 4 mm and 9 mm flat tips

Free cleaning brush

Fitted with UK plug

Integrated on-off switch which lights up when on

Does not require a support-stand - the perfectly balanced handle will not roll or slide when put down

Has the shortest exposed barrel available, allowing more precision as you can work more closely

Handle ergonomically designed to minimize hand fatigue with an improved rubberized grip for comfort
The information below includes detailed instructions on how to use the Professional Touch ® Hot-fix Applicator.
Click here to buy the Professional Touch® Hot-fix Applicator
Click here to see our range of Swarovski hotfix
Click here to see Crystal Chic This book is a great introduction to the techniques of working with hot-fix crystals and shows how to incorporate metal, resin, wood, plastic, polymer, and more, into your owndesigns. Thirty unique, step-bystep jewelry projects, plus accessoryprojects such as stampingand resin-making, and other hotfix crystal applications are included.
---
View Full Information and Print